Charging an Electric Car at Home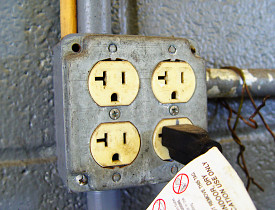 Several car companies (BMW, Ford, Mitsubishi, and GM to name a few) have been working to develop and market more all-electric cars. Now interested consumers can purchase a vehicle that uses absolutely no petroleum products. All-electric cars also do not release any emissions. In fact, electric cars don't even have a tailpipe. Some of the electrical cars being marketed are the Tesla, BMW i3, Ford Focus Electric, Mitsubishi iMiEV, and the Nissan Leaf. GM has a plug-in hybrid called the Chevy Volt.
You can spend from $24,000 to $1 million on an all-electric car (some hybrid cars are both electric and gas-powered like the Volt), but how are they charged and what do you need to do to your home so you can accommodate your electric car?
What's required to support an electric car at home?
Daniel Green of Hartford Mitsubishi tells us that when consumers purchase an electric car, they are required to hire a certified Hartford electrical contractor, either sent by the car company or chosen by the client, to inspect the home's electrical systems. If you do not submit to an inspection by a certified electrician, it is likely the dealership will require you to sign a waiver. "It's to confirm your understanding of your responsibilities," explains Green.
There are two ways, according to Green, that a car can be charged at home. The first is with a typical three-pronged outlet, which needs to be rated for at least 15 amps (or a 120V outlet). "Each car comes with a charging cord. You simply plug it in and it takes about 22 hours to charge."
The second option is to purchase a home charging dock (240V). Green's dealership, and most likely others, contract out for estimates and installation of a home charging dock. For example, Amazon may sell a home charging dock for $599, but each home has to be assessed for placement and safety. Green's dealership works with Best Buy for charger installations. "You can also have it set up to have a charger placed in your garage for more convenience."
While it may seem like more effort and expense to install a charger dock for your electric car, the benefit is time saved. Charging your electric car from a 7kW charging dock only takes about four hours from empty to full.
Safety precautions for your electric car charging dock
Green recommends you treat your charging dock "as you would any other electrical appliance." He says the docks are safe for outdoor use, but should not be surrounded with clutter, greasy rags, or other debris. "It's OK if it's in the rain, it's set up to take that, but you wouldn't want to set it up next to your hose faucet. Otherwise just take the precautions you'd take with any other electrical appliance."
Tax credit?
If you decide an electric car is for you, check into federal tax incentives to help defray costs. Currently, you can receive a tax credit of up to $7,500 if you purchase an electric car.
Updated July 1, 2018.
Looking for a Pro? Call us at (866) 441-6648

Top Cities Covered by our Electricians