Brown-Banded Cockroaches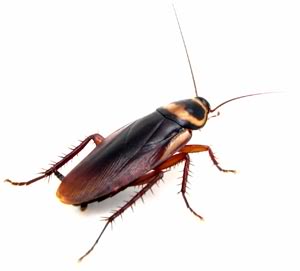 Learn more at www.frontlinepest.com
Brown-banded roaches are different than other roaches in that they fly and jump. They are the same as other roaches in that they can make you sick by leaving behind bacteria, such as E. coli, which they tend to carry as a result of eating and living in the garage and otherbacteria-filled areas. Brown-banded roaches don't favor the garbage bin as other roaches do. These small (about 5/8 inch long) roaches prefer warm, dry, elevated areas such as ceilings, behind behind picture frames or up in a tall closet. They prefer to eat starchy matter suchas the glue that binds books or the glue behind wallpaper. They are light brown and can also appear a bit glossy. If you live in one of the Southern states, such as Georgia or South Carolina, then chances are you have seen brown-banded roaches more than people living up North.
How they Hide and Reproduce
Brown-banded roaches only come out at night. If you want to find and detect them then you'll probably have to wait until night and do a little search with a flashlight. During the day they hide in loose wallpaper, behind books and behind wall decorations. They reproduce quickly and are known for depositing their eggs on furniture, drapery, shelving and more. Each egg capsule can contain about 18 eggs. That's a lot of new baby roaches! The higher, warmer and darker your closets, the more likely they will be in there.
How to Get Rid of Brown-Banded Roaches
As with all roaches, bait traps work the best.
Brown-banded roach treatment should not be limited to kitchens and bathrooms. For moderate infestations, all rooms of the structure should be treated.
1. For indoor infestations, spray Suspend SC all along the baseboards, window and door frames, and underneath appliances using a hand-held sprayer. Repeat this treatment every two to three months.
2. Dust underneath baseboards and inside wall voids with Delta Dust.
3. Outdoors, use a residual spray such as Talstar One or Cynoff WP outside around all possible points of entry including windowsand door frames, dryer vents and pipe openings. Use the same residual indoors along baseboards and framed entry points.
4. Recommended baits for brown-banded roach control include Advion Roach Bait Gel and Maxforce Roach Bait Stations. A single roach feeding on MaxforceRoach Gel can kill up to 40 other roaches via its droppings and dead body.
Looking for a Pro? Call us at (866) 441-6648

Pest control Average Costs
Top Cities Covered by our Exterminators